Office Hours
Monday
9:00 am - 11:00 am; 3:00 pm - 6:00 pm
Tuesday
3:00 pm - 6:30 pm
Wednesday
9:00 am - 11:00 am; 3:00 pm - 6:00 pm
Thursday
11am - 1pm ; 3pm - 6pm
Friday
By Appointment Only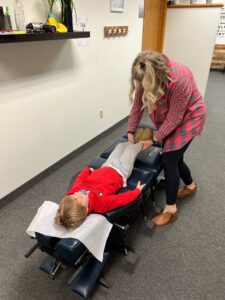 New Patients
The Healing Hands Chiropractic Team is here to assist you in your healing process by improving the structure and function of your body.  We look forward to meeting you and discovering how we can help you achieve your goals in health and beyond.
First Visit
Before your appointment, we will send you an email with forms that you are able to fill out before you arrive.  Otherwise, we encourage you to come a little earlier to fill out the paperwork.  You will be greeted by the staff at DMHHC and Dr. Meghan will take you back to an exam room.  During your first visit, we will do a thorough history and examination to determine if we can help, and find out what your goals of treatment are.  We also take X-rays in the office (when necessary) to help the Dr. know exactly what needs to be done in terms of correction.  This allows Dr. Meghan to know if chiropractic care is right for you and if we are able to treat you.
Please plan on spending about 30-40 minutes with us.  Bring your insurance card and photo ID.
Second Visit
At the second visit, Dr. Meghan will bring you back to review what she has found.  We review the findings of your X-rays.  Dr. Meghan will come up with a plan to get your health back on track with a specialized care plan to help correct your spine as much as possible within the shortest amount of time.  She will outline your goals of treatment and we will make a plan to get there.   We will discuss your financial responsibility and set up your treatment plan schedule.  You will also receive your first adjustment.  This visit is around 30-40 minutes.
Regular Visits
When you see us for subsequent visits, we will continue with your adjustments and any other therapies that are indicated in your treatment plan.  We want to make sure you are staying on track – so we will make sure you are hitting your goals and that things are progressing as they should. These visits take no longer than 30 minutes.
We accept insurance and are an in-network provider. Book your time with our office today! Same-day appointments are available.